Roskilde Festival 2005, day 1 (in English)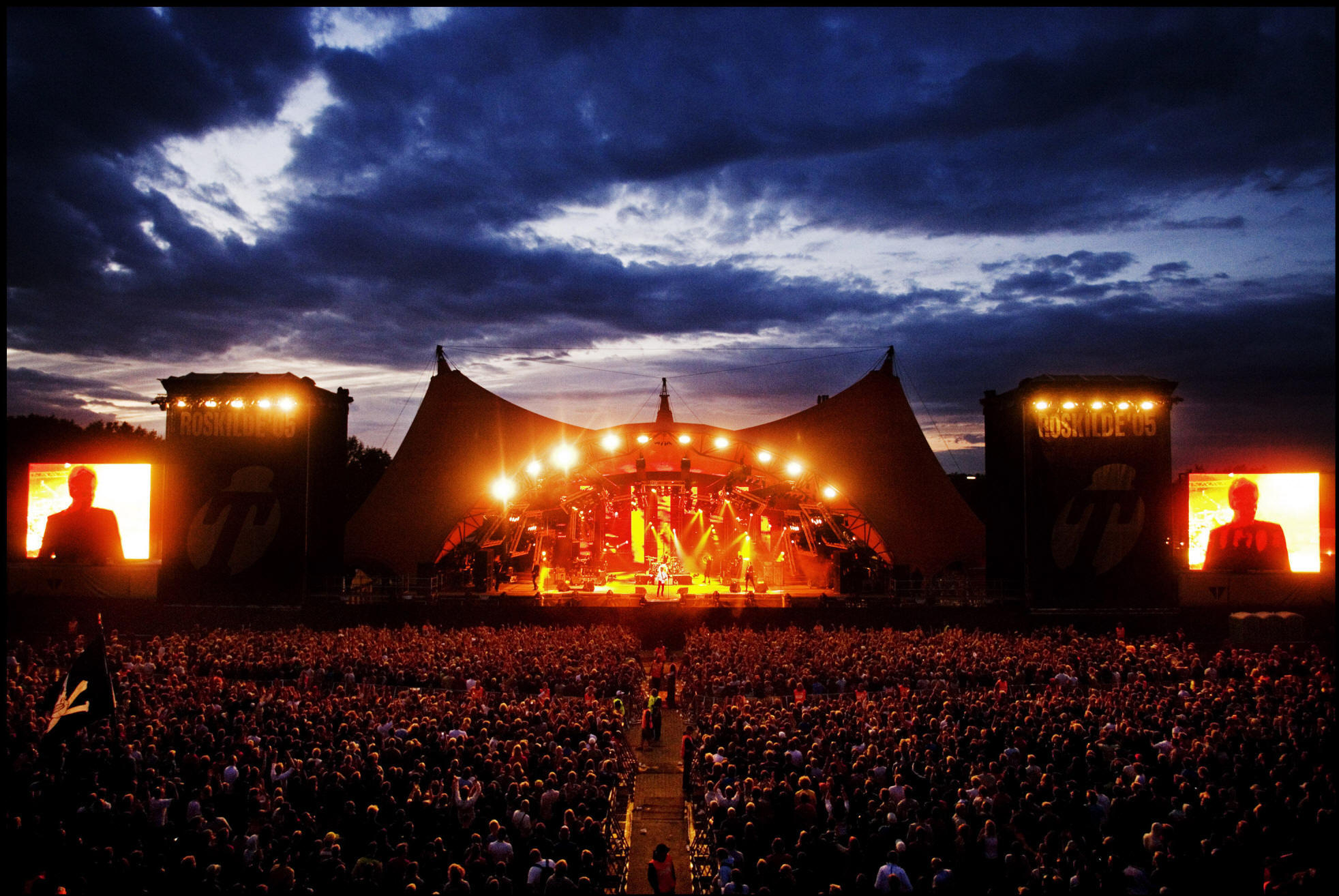 The day started with perfect sunny weather, which amazingly ended up lasting for the entire festival.
On the station I met Hans E. Madsen, whom I know from my Århus days. It turns out he was the mastermind behind (among other installations) the orange neon sculpture in front of which Morten and I were posing on last year's Roskilde report. Small world, eh?
First band on the Odeon stage was Athlete, sometimes known in the British music press as "The mighty Athlete". And they're pretty good: Cinematic pop with a pleasantly funky groove and a knack for writing a good hookline. And every once in a while a burst of quirky inventiveness to keep the audience on their toes. An excellent start to the festival.
Imagine a hip hop band that doesn't rap in any known language, but instead invents their own nonsensical lingo – and you have Danish Ikscheltaschel. Live on the Orange stage, it was even more fun than I expected – there's a good deal of dada in their determination to utter complete nonsense. The huge production – live musicians, including strings and brass, and especially the dancers that filled the stage – mainly added a tired hippie flavour. This band works fine without all that stuff. Funky as hell.
I merely went to see Velvet Revolver for fun – but I didn't expect them to suck as massively as they did. I mean, Scott Weiland used to be in Stone Temple Pilots. And they were kinda innovative, right? So why does he now seem content to front a band that sounds more dated than your old Guns'n'Roses albums (at least they had some decent songs)? Every now and then, the soulful guitar wizardry of Slash breaks the tedium, but no. Life is too short.
Tom Vek, on the other hand, has that relentless inventiveness that can easily result in indie-rock of the incomprehensible and unlistenable variety. But here,the tight rhythm section kept even the weirdest stuff moving along. I was somehow reminded of last year's brilliant TV on the Radio concert – the same ability to make unconvential music rock. Interesting stuff.
There are a couple of bands that inspire a huge following – but which I just don't get. Coldplay is one (though now of course, Coldplay-bashing has become almost too predictable), Swedish Kent is another. Their sad, slightly grandiose brand of indie rock is decently written and impeccably arranged. But they lack any sense of inventiveness, any urge to break outside the norm. There's nothing not to like, but ultimately so predictable.
Are Sonic Youth the dinosaurs of indie-rock? Well, they're still the best at what they do: I've heard no other band create so carefully constructed layers of guitar noise. And they master that seamless transition from pure noise to power pop. Excellent.
Tocotronic have played Berlin so many times but I never got around to seeing them before today. Their musical style is actually sort of reminiscent of Kent's, but the delivery is so different: Pure energy and determination carries their sad and melodic songs across. And in true "modern rock band" style their arrangements make intelligent use of the guitar-bass-drums format without resorting to cliches. A nice way to end an evening.