Gerhard Richter retrospective, Neue Nationalgalerie, Berlin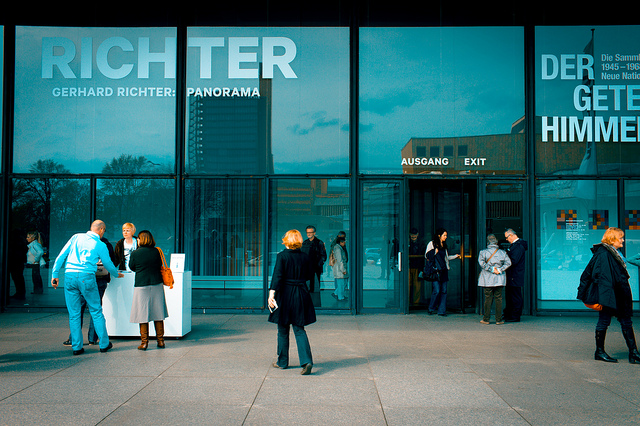 Finally managed to get in to the very popular Gerhard Richter exhibit at the Neue Nationalgalerie.
Strangely, I did not come away as impressed as I expected I would. I do admire Richters technique – and especially his insistence on working in different styles throughout his career – the blurry photorealism he is so well known for, along with abstract and conceptual works. Never mind that some of the latter (panes of glass in various arrangements) leave me cold – although I find the hanging of a large mirror where a painting would normally go rather amusing.
But even the works I felt drawn to at the first glance – such as the huge, abstract, squegee paintings – for me eventually reveals a major flaw: They are just so damn tasteful. Their colours are so perfectly aestically matched – without a hint of the unsettling contrasts you'd find (for instance) in a Kirkeby abstract. They seem to be just too well suited for a place above the fireplace of a billionaire art collector.
Some of the fuzzy photorealistic paintings have more depth – ironically, they work better as they veer towards the abstract (such as the cloud paintings – the simplistic Kerzeand the gloomy, half-obscured September). But others – like Lesende – are again so colouristically pleasing that they themselves become the kind of postcard-like kitsch they comment on.
Eventually, I was most impressed by some of his Grau paintings: Rough splattering of thick, monochrome gray paint – resulting in shadows and highlights that transcend the basic colour itself.
Gerhard Richter may be the world's best-selling contemporary artist – but is he also the most important? I don't think so. An eminent craftsman with a unique style of expression (or actually a number of styles) – but ultimately lacking the element of truly unsettling iconoclasm that defines the groundbreaking artist.