Roskilde Festival 2008 – day 4 (in English)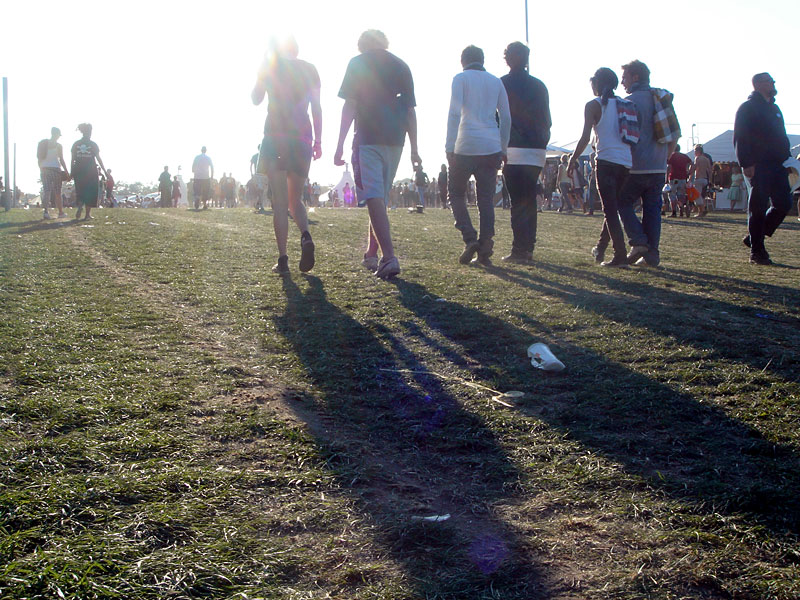 Sunday I arrived to the Festival in time for Slayer. Well, what can I say? Their power and precision is impressive. But it seems to me they are still playing a style of metal that once was groundbreaking but since then has been copied by thousands of newer bands. But then again, I'm not enough of a fan of the genre to truly appreciate their qualities.
Instead I caught most of Miss Platinum's set, and that really kicked off the day. This irreverent group mixes dancehall rhythms with Balkan-style melodies, led by Miss Platinum herself – a squat housewife in an apron and worse hair than James Brown. She is accompanied by two Supremes-like singers (who nonetheless knows their Eastern European dance steps) and a exuberant brass section. Imagine the Leningrad Cowboys movies made by Emir Kusturica instead of Kaurismäki, and you get the idea. Excellent fun!
And then it was time for one of the festival's highlights, the newly reformed Swedish indie darlings, Bob Hund. With their raw energy, coupled with lyrical sensibility, and always a hint of wackiness, they still occupy a uniqie position among Scandinavian indie bands. And skinny and unpredictable frontman Thomas Öberg (with his unrepentantly off-key vocals and his worrying love of climbing onto wobbly chairs) adds an irrestible charm to the group. And hey, they didn't just reform – they played a number of new songs, as well. We don't miss their ill-fated English-language attempt, Bergman Rock, one bit.
As the rain started (for the first time in four days), we took shelter in the Arena tent, where British Hot Chip played their unique brand of raw and funky retro-dance-synth-pop. Somehow they manage to sound fresh and new in the midst of the almost unbearable wave of so-called electro-clash bands. And they're even more fun live. A nice closer (for me) to a festival offering many nice surprises.