Roskilde Festival 2008 – day 3 (in English)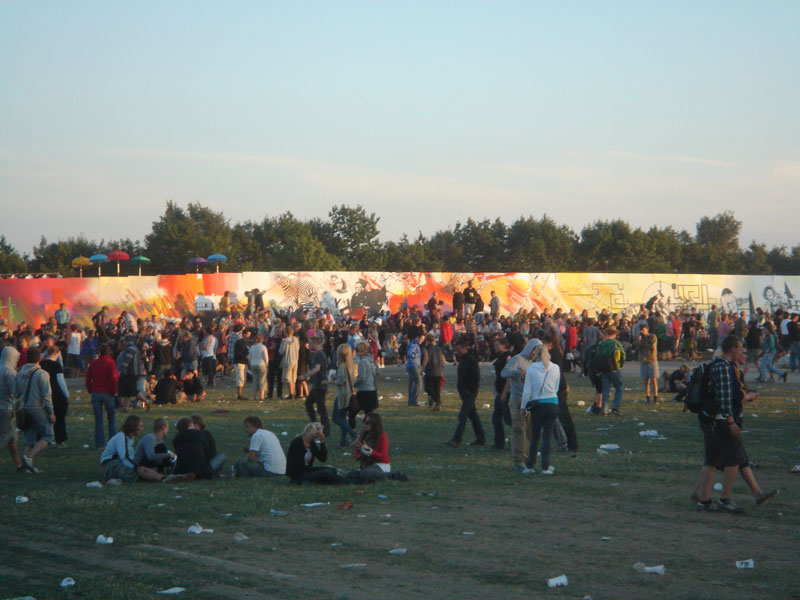 Tokyo Police Club was a great starter for my third afternoon at Roskilde. These young Canadians delivered their hard and fast rocking beat with the casual detachment of The Strokes or (my personal favourites) The Rakes.
Danish The Fashion offered a lot of energy as well – but sadly, not much else. Tight riffing, loud and aggressive sound, energetic vocals – but not much originality. And why do Danish band spend all their times rehearsing – instead of sitting down and writing the goddamn songs?
Considering my disappointment yesterday with Barcelona's La Kinky Beat, Spain came back with a vengeance with neo-flamenco band La Shica. While most folklore leaves me cold, I have a thing for flamenco – and Elsa Rovayo has the kind of powerful, relentlessly expressive voice that sends shivers down my old, cynical spine. La Shica mixes flamenco with rock, funk and even rap, which worked remarkably well – not least due to their guitarist injecting flamenco flavours into anything they did. Still, I would have been perfectly happy hearing them do traditional flamenco for the whole set. They're that good.
Soul vocalist Solomon Burke is now apparently too obese to stand up. Instead he was seated on a gold and red velvet throne, having young handmaidens wipe his brow and unbutton his jacket whenever needed. Still, he was in command of a truly funky band of musicians and delivered a show of classic soul music with his powerful voice.
I just managed to catch a few songs by German The Notwist – the Astoria tent was simply too crowded to get in. Which is only fair, as The Notwist delivered some of the most interesting and creative music I've heard this year. Their hypnotic groove moves imperceptively from guitar-based noise rock to electronic grooves and back again – combining an always rocking beat with a complex multi-layered soundscape. Is this the triumphant return of Krautrock? The eccentricity of Can and Neu! incorporating the sounds of today? A damn exciting band, in any case.
Godfathers of guitar noise rock, the recently reformed My Bloody Valentine delivered a massive wall of distortion. After an already deafening set, they ended with their notorious fifteen minutes of pure noise – during which the volume seemed to grow and grow to an incredible climax. And amazingly, there's still lots of layers and detail in their uncompromising sound. Your ears will definitely feel different afterwards.
I don't have a history of listening to Neil Young, and I believe that is needed to fully enjoy his performance. The endless jams over simple folk-rock songs left me rather unimpressed. But once in a while, the old rocker unleashed his fury on the guitar – and the intensity of those solos is still unmistakably his own.
After so many disappointing new Danish bands, it was nice to hear The Raveonettes again – even though the duo performed with one member missing – the pregnant Sharin Foo replaced by two standins. I've sometimes had mixed feeling about their rather restricting concept of guitar noise versus fifties bubblegum pop – but even within this format, the very talented Sune Wagner still writes better songs than any of his Danish contemporaries. And they truly rock.