Roskilde Festival 2005 – day 4 (in English)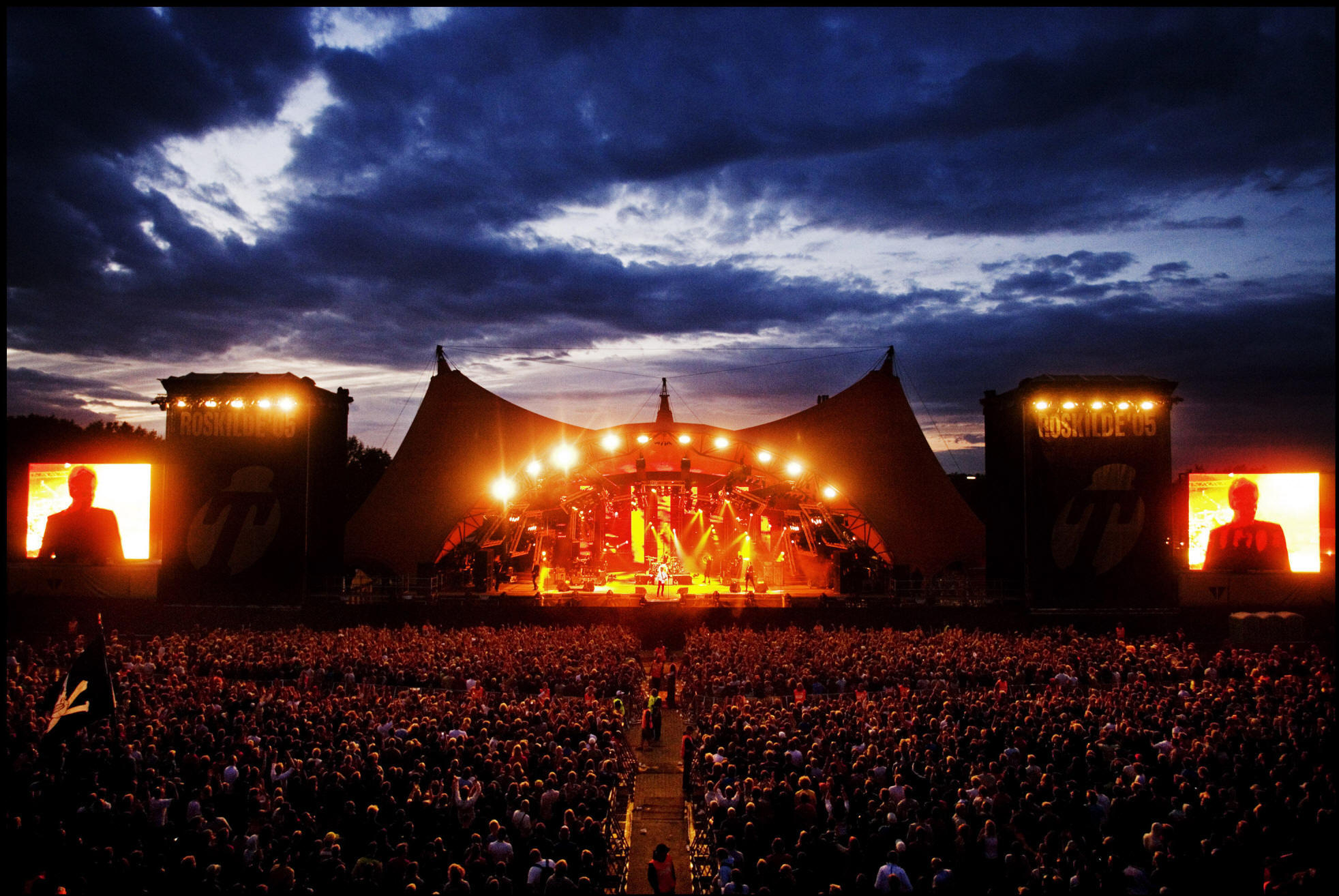 The Futureheads offered an explosion of pure energy. Absurd as it is to imagine a cross between Devo and The Proclaimers, delivered with the pop-punk simplicity of The Buzzcocks, The Futureheads make it work. I had a great time, but for the rest of the Festival audience 2 p.m. seemed a bit too early for relentless uptempo rock.
Perhaps the Orange Stage was a bit too much for the noisy shenanigans of underground darlings Turbonegro. And the 3 p.m. time slot in open air certainly didn't do them justice. After all, homoerotic glam-punk works better in the dark, doesn't it?
I've heard many bands attempt a fusion of rock and hip-hop, often with rather heavy results. The Go! Team, however, mixed these and a bunch of other genres into a happy and playful cocktail. Their female rapper, Ninja, has even developed an irresistible fusion of rap and singing. A fun band with a charming personality.
The eagerly awaited Bloc Party could be seen lurking at the side of stage during the Futureheads show. Now they took the stage themselves to an enthusiastic crowd. No doubt this is a party band – but they are also have one of the strangest and most original party bands I have ever heard: Quirky guitar riffs and vocal lines, unexpected drum beats. And then the restless intensity that might just one day end up as a straightjacket. And, unlike The Futureheads, their melodies just don't stick in my head.
And if you thought Ozzy Osbourne looked aged and mentally unstable, you should have seen Brian Wilson performing on the Orange Stage! The poor man's only attempt to communicate with the audiences was the question "how loud can you yell", repeated ad absurdum. However, even with his broken voice and hired musicians, the timeless quality of the old Beach Boys songs and arrangements came through loud and clear. The man has an immense talent – it's just a bit sad to see him like this.
My last concert at this year's festival was the ultra-cool Interpol at the Arena stage. I've kinda liked their music, but live it all falls into place. Interpol write variations on the traditional pop songs, adding the new wave-ish paradox of motionless motion. Simplistic and detached, their sound creates a unique emotional landscape, beatifully supported by the matching light show.
And still, as I drove home, the sun stood high in the sky over Roskilde. No festival could hope for better weather.