Roskilde Festival 2004, day 2 (in English)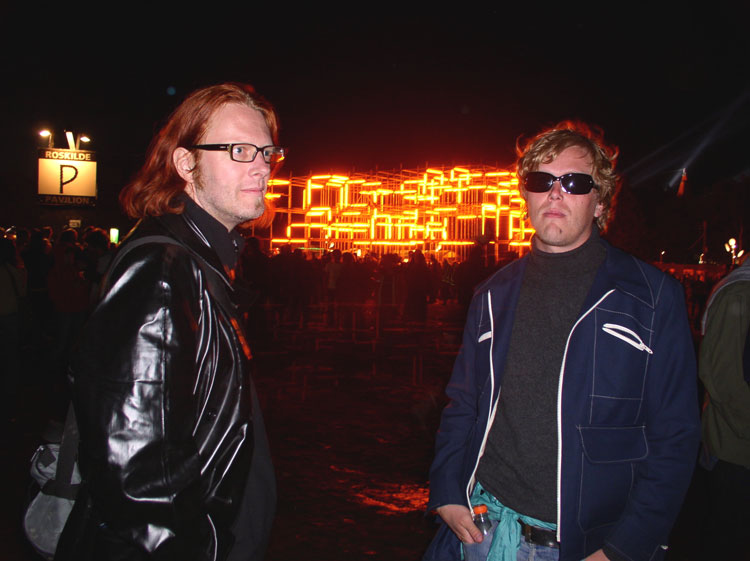 A friend dragged me along to Within Temptation, but we left after a couple of songs: The worst cliches of goth/symphonic metal, with the female singer sounding like Kate Bush before she grew up. A little worse, and they could be Evanescence (and I really hate Evanescence).
DJ Krush was the DJ as an artist: He moved fluently from playing well-known track to moments of pure deconstruction and abstract electronic rhythms – and back into the groove again. Elegant!
Ex-Blur guitarist Graham Coxon payed the Odeon stage with his new band. He'd probably kick me for comparing his current music with Blur, but they do sound alike: The same catchy brit-pop songwriting – and even his cheeky boyish vocals sound a bit like Damon Albarn. However, on his own, Graham Coxon adds some extra noise-rock punch to his sound.
When David Bowie cancelled his gig at Roskilde, the festival added Slipknot to the line-up. These guys could easily be dismissed as over-hyped inarticulate clowns in masks, but in fact they look set to be the kings of wherever metal is going next: With relentless energy and amazing musical innovations (a metal band with a percussionist, for chrissakes!), like all good rock bands they walk the fine line between chaos and control.
If you think (like I do) that R'n'B gets too predictable too often, then N*E*R*D might be your kind of band: Not that they differ wildly from standard R'n'B fare. But musical intelligence and a kicking rock backing makes one hell of a lot of difference (first TV on the Radio, now this – is the black man stealing the white man's music back?).
Would soundscape-architects Pluramon have been hired if they hadn't brought Twin Peaks-soundtrack singer Julee Cruise along? I don't know. Their sound backed up characteristic vocal style nicely -a almost too nicely. A little bit of musical edge might have offered her a challenge and created something new.
Predictably, the highlight of the evening was the Pixies concert on Orange stage. The original noise rockers has their sound and energy intact. They delivered a set of pure classics – For a "Fight Club" afficionado like yours truly it was beautiful to hear the crowd singing along to "Where is my Mind?" as the sun set over Roskilde.
The Pixies were a hard act to follow, but the aptly named Vive la Fête turned the Pavillion stage into a seething party. I've always felt that the much-hyped electroclash genre was missing something: Maybe it was a young blonde in a short sequined dress? Anyway, their combination of gritty analog synths, disco beats, aggressively rocking guitar and French chanteuse vocals was a deserved crowd-pleaser. Serge Gainsbourg would have loved this band!
The original new wave rockers, Wire, still create out walls of the dirtiest guitars I've ever heard. But their minimalist approach, which was innovative in the late 70es, just isn't enough to grab your attention anymore.
When I left the festival, the crowd was in good hands with Swedish party rockers The Hives at the Orange stage. Tight, punkish rock'n'roll songs, led by a cheekily charismatic singer. Amazingly, this rather new and slightly "alternative" band managed to capture the immense crowd at the Orange stage. Rock'n'roll!