"My God! What have I done?" – David Byrne plays Falkoner Salen, Copenhagen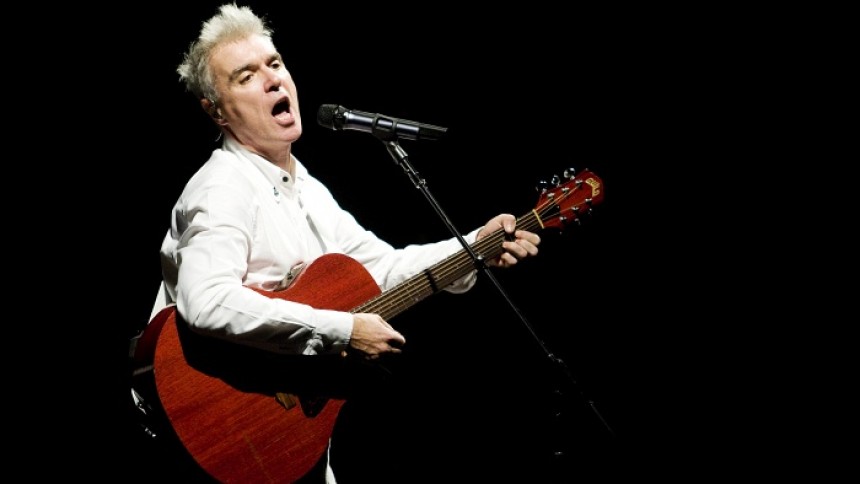 Tonight, David Byrne played Falkoner Salen in Copenhagen – a show devoted to his collaborations with Brian Eno.
Of course, as David hasn't been on speaking terms with the original members of Talking Heads for decades, he's had to hire a group of musicians for the tour. This constellation worked perfectly well for the mellow, gospel-tinged songs from Byrne's and Eno's recent Every That Happens Will Happen Today album. David himself was in excellent form, his uniquely squeaky voice seemingly intact (in key even), adding his welcome touch of eccentricity to these otherwise very traditional songs.
But for the Talking Heads material – well, these professional hired hands simply lacked the edge, the nervous energy and – let's face it – the charming amateurism that made the Heads so unique.
Apparently for that reason, some evil mastermind had decided to hire dancers. Yes. Dancers.
Needless to say, an old rock'n'roller like myself has absolutely no time for choreographed dance of any kind. And I almost puked when these frisky young people first appeared, displaying the jerky motions and manic smiles that supposedly brings joy to many an off-Broadway audience. And to "I Zimbra", no less. My only consolation was that Hugo Ball wasn't alive to witness this horror (okay, look him up, then!).
To be fair, the choreography had its moments. Such as the surrealist spasms of the rarity "My Big Hands (Fall Through the Cracks)" and the office chair ballet accompanying the lovely "Life is Long".
But still, the dancers  – along with the detached professionalism of the band – made the show resemble that most revolting of musical performances – the theatrical revue. As if the evil mastermind mentioned above had decided that this tour could do for Talking Heads what "Mamma Mia" did for Abba (whatever that was – turn nostalgia into complete embarrassment, perhaps?).
Granted, the band did play quite a funky version of "Crosseyed and Painless" and by the encore "Burning Down the House" they'd almost gotten into a groove (though I swear I never saw the drummer break a sweat). But can you imagine a dull, lifeless version of "Life During Wartime"? I couldn't. And now get this: A dull, lifeless version of "Life During Wartime". With dancers.
To quote David: "And you may say to yourself: My God! What have I done?"
Indeed.